Vivitek D871ST XGA 3000 Lumens DLP Projector
Actual Stock Can Be Confirmed After Placing the Order.
Great Value Short-Throw Projector
The short throw all-rounder
The D871ST is designed to cater for the education needs. The D871ST projects an 82'' image diagonal from less than 1 meter distance 0.6:1 T.R. With a brightness of 3000 ANSI Lumens and outstanding contrast ratio of 15.000:1 it delivers a perfect image display. The projector is designed for use in any classroom or is perfect solution wither for small office room and home office. With its light weight and compact form factor this is a short throw projector for easy installation that will fit any budget.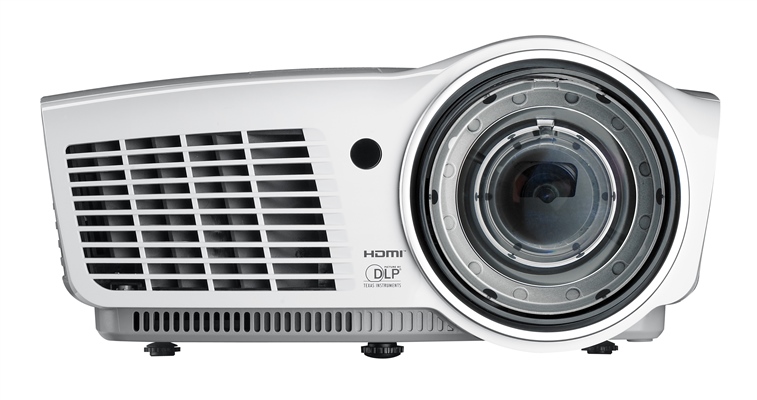 HDMI
HDMI (High Definition Multimedia Interface) is an uncompressed, all-digital audio/video interface that supports audio/video sources such as a set-top box, DVD player, A/V receiver, and video monitors such as a digital projector or digital television (DTV). HDMI is backward compatiable with DVI 1.0 specification and supports HDCP.
3D Ready
A projector that is 3D Ready can accept a 120Hz frame-sequential 3D signal from a computer. These projectors are not compatible with the HDMI 1.4 3D specification used on 3D Blu-ray players and set-top boxes. 3D ready uses DLP Link Technology from Texas Instruments.
BrilliantColor™
BrilliantColor from Texas Instruments is a multi-color processing technology that produces vibrant images. BrilliantColor technology uses up to six colors, instead of just the three primary colors, red, green and blue, to improve color accuracy and brightens secondary colors.
DLP® Technology
DLP (Digital Light Processing) is a display technology from Texas Instruments (TI). The technology inside is often referred to as DMD (Digital Micro-Mirrors). It consists of an array of mirrors where each mirror represents a pixel element. For example, a high-definition DLP projector or rear projector with 1920 x 1080 pixel resolution would have over 2 million tiny mirrors. Each mirror is attached to an electronically driven hinge that controls the amount of colored light that is reflected from
More Information

| | |
| --- | --- |
| Weight | 2.70 |
| Projection System | DLP |
| Aspect Ratio | 4:3 |
| Contrast Ratio | 15000:1 |
| Native Resolution | XGA (1024x768) |
| Projection Size | 41"-328" |
| Throw Ratio | 0.6:1 |
| Lumens | 2001-3000 |
| Lumens | 3000 Lumens |
| Lamp Type | 190 Watts |
| Lamp Life | 6000 hours normal |
| Dimensions (WxDxH) | 285 x 261 x 121.8 mm |
| Power Consumption | 200 Watts |
| Manufacturer | ViviTek |
| Color | White |
Compare Products
You have no items to compare.